The Client
Apple-authorised training & repair centre
Conversion focused
UK-wide PPC strategy review
The Challenge
Amsys turned to WBS to evaluate their PPC activities, which at the time were run in-house. The concern was that Paid Search wasn't bringing enough conversions and ROI.
On the website, users can book training courses, appointments for repairing their Mac computers, iPads or iPhones, or get in touch with Amsys. Certain training courses, repairs and services are more valuable because of their higher ROI, and thus, prioritising these types of conversions is important for maximising ROI.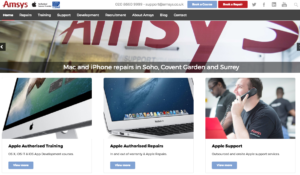 The Solution
WBS devised a new Paid Search strategy, the main objectives of which are to increase brand visibility, drive quality traffic to the site and, most importantly, increase conversions. A new campaign structure was implemented with the main focus on priority Training and Repair services, followed by other services, such as app development and IT solutions.
To maximize campaign effectiveness, WBS implemented various ad extensions. WBS also reviewed the Google Analytics set-up and re-implemented it using Google Tag Manager to ensure that all conversions are tracked and attributed correctly.
The Result
Five months after launching the new Paid Search strategy and constantly optimising all campaigns, the results were evident: PPC traffic increased by more than 40%, while average CPC dropped by 15%. Thanks to the more focused campaign structure and smart bidding on relevant keywords, CTR increased by over 350% (from 0.9% to over 4%). More importantly, PPC conversions increased by 167% and Amsys started to see the positive ROI.
WBS meets with Amsys face-to-face on a monthly basis to discuss performance, share learnings and provide recommendations for further improvements, not only PPC-related, but also for website optimisation. WBS and Amsys are also working together on a solution to better track offline conversions in order to understand total ROI of online advertising.
The next step is for WBS to implement a re-marketing strategy for Training courses in order to engage people who are in the research and consideration phase and to encourage them to book a course with Amsys.
"We were looking for a cost effective and flexible partner to help drive our marketing activities, particularly sales. WBS has become an important strategic partner and trusted advisor on the development of the digital side of our business. Our PPC campaigns have been completely rebuilt with cost savings and a dramatic improvement in all of the key metrics. Over the past 12-18 months, WBS has worked closely with Amsys as our own online offering has evolved and have been a valuable part of our team in developing our digital channel."

Dominic Hawes, Marketing Director, Amsys
---