The Client
UK family owned car dealership established in 1960
Focus – brand awareness & lead generation
The Challenge
Vindis Group had been running Paid Search advertising for some time when they turned to WBS to evaluate their PPC activities. The concern was that the existing strategy was not agile enough for the fast-paced and highly competitive automotive industry.
Vindis offer multiple products and services (e.g. new and used vehicles, commercial vehicles and servicing) across different locations, and which to some extent overlap. The existing PPC strategy did not take the overlap into consideration and there was not enough flexibility in the campaign structure to accommodate regular product changes and promotions, nor special events.
WBS also found that on-site conversions were not tracked correctly, making it difficult to evaluate and justify marketing efforts.
The Solution
WBS devised a new PPC strategy, which takes into account both, the multiple Vindis Group dealerships and the various vehicle brands and models they sell. WBS revamped the whole AdWords account, including the campaign structure, keywords, ad copy, settings, extensions, etc. Two types of ad copy were used – all with a clear call-to-action: (1) Generic focusing on specific car brands and VG brand values; (2) Offer ads, promoting tactical offers and events.
WBS also reviewed the Google Analytics set-up and reimplemented it via Google Tag Manager to ensure that all conversions (e.g. Book a Test Drive) and engagement elements are tracked and attributed correctly.
The Result
After four months of running Paid Search with the new strategy, while constantly optimizing the campaigns, the results were evident: the number of clicks increased by 90%, while reducing the cost-per-click by 40%. PPC traffic now has the highest conversion rate across all channels, and the number of conversions has increased considerably.
From the moment WBS took over the PPC management we have been optimising campaigns on a daily basis and showing improvements over time. CTR (click-through-rate) increased from 3% to above 15%, proving that campaigns are focused and bringing relevant audience to the site. CPC (cost-per-click) is decreasing steadily over time while the number of conversions increased dramatically and reached level of 1,200 p/month in the last few months.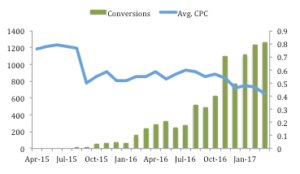 WBS also set-up remarketing campaigns to re-engage customers who did not convert during their first website visit. Specific remarketing campaigns have been built and are bringing incremental conversions.
Recently WBS also recommended starting display advertising campaigns in order to reach a new audience based on their interests and specific, relevant placements. These activities are also starting to bring additional conversions on the site.
"The team at WBS has been looking after our PPC account since 2015 and has helped to maximise our budget, increasing not just web traffic but also conversion of traffic to enquiry. Their methodical approach and analysis has helped me in more areas than just PPC, making them a crucial part of my digital marketing infrastructure."

Paul Woodhouse, Vindis Group Marketing Manager
---