Do you have a digital marketing strategy in place? If not, it's definitely time to get one. Or even if you do, it could be time to refresh it?
Our experienced digital team specialise in designing and building bespoke, multi-channel strategies which are designed to deliver maximum ROI. From paid media channels like PPC, display network and affiliate marketing, through to content strategy, SEO on-page optimisation, to measuring and analysing results. We do it for a variety of industries, either B2B or B2C (the latest strategies being in the Healthcare and Printing sectors).
What clients say:
"WBS has been an important partner for Clearblue for more than six years. Their professional expertise and deep knowledge of our brand have been important contributors to Clearblue's digital strategy and global growth during that period. WBS's expertise in paid search and other digital and social media channels were instrumental in increasing Clearblue's reach and visibility, while at the same time reducing media spend through a combination of efficient targeting and continuous optimisation. Their flexibility and dedicated customer approach also make them a joy to work with."

Riccardo Guitart, CEO, Clearblue – SPD Swiss Precision Diagnostics GmbH
A Proper Digital Marketing Strategy
A solid digital marketing strategy should set clear goals for your business, measure your market share and progress, optimise your existing strategies and help you to remain competitive.
WBS starts by understanding your business goals, whether they're to achieve more sales, drive new business enquiries or generate brand awareness. We analyse your target market, target audience as well as what your competitors are up to. We also look into all of your past marketing activities to understand what has worked and what hasn't, enabling us to gather learnings in order to optimise future campaigns.
We then analyse where your target audience is, on which channels they are active, when they are online looking for information, how they engage with content, etc. We also help you define objectives and goals for your marketing strategy.
We assess all digital channels to help us decide which channels we should be present on and how to redistribute your budget between them. We plan all your marketing activities for the coming months, ensuring that we have all measurements in place to evaluate results.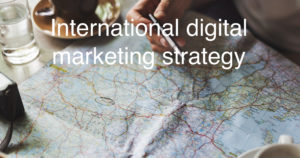 International digital marketing strategy
As a multinational team, we have a passion for creating digital strategies for international brands. Depending on your needs, our global strategy can consist of all the countries you have a presence in, or just a chosen few. As your target audience may behave differently in different markets, we perform our research and analysis per country. This ensures that we capture any local nuances and subtleties of language, which is hugely important when making an international, digital marketing strategy.
---