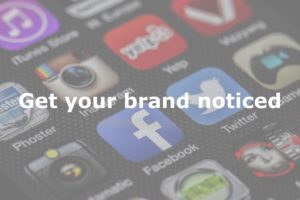 With almost 2.8 billion social media users worldwide, your target audience is engaging with social media platforms on a daily basis. Are you there as well?
Paid social can be used to increase online conversions and ROI, drive traffic to the site, boost your social media presence and improve engagement levels.
With social media platforms you can target users at the most granular level, e.g. 30 year old female living in London who likes organic food and enjoys yoga. These targeting options let you personalise your marketing campaigns – you can segment your target audience and create adverts and content specifically for each segmented group.
Strategy & Management
We have experience and expertise in creating and managing paid social campaigns on the following platforms:
Facebook
LinkedIn
Twitter
Instagram
Pinterest
and other niche platforms
If you are interested in advertising on YouTube, please follow this link.
Each social media platform has different user groups and purposes, therefore, not every platform will be right for your business. We take the time to understand your business, goals, target audience, industry digital landscape and competition.
This information helps us to shape a social media advertising strategy that will deliver results based on your business goals.
We determine which social media platforms are the most appropriate based on your business objectives, choose targeting options using the various advanced options available, advise what advertising options are best suited to your audience, as well as what results can be expected based on your available budget. We can also advice on the optimial budget to achieve set goals.
We continuously monitor, test and optimise campaigns to ensure campaigns are reaching your target audience and are run in the most cost effective way. We optimise bids, ad message, formats, frequency, target groups, etc. We report on the results regularly and we meet face-to-face at least on a quarterly basis. Your dedicated account manager is always just a phone call away to answer any questions you may have.

Our latest social media strategy has been designed to increase the awareness of a brand new product available for people with diabetes. We designed and planned campaigns across 10 countries for people with diabetes, their carers as well as healthcare professionals. The first campaign results have been great, we've reached more people than planned and the number of conversions have increased everyone's expectations.
---